Dentist Blog
Posts for: September, 2021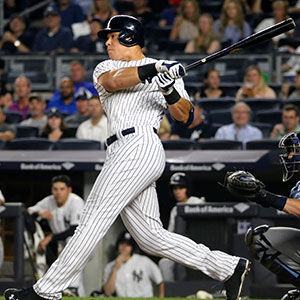 Between the final game of the World Series in late October and spring training in February, major league baseball players work on their skills preparing for the new season. Reporters on a Zoom call to the New York Yankees' training camp wanted to know what star outfielder Aaron Judge had been doing along those lines. But when he smiled, their interest turned elsewhere: What had Aaron Judge done to his teeth?
Already with 120 homers after only five seasons, Judge is a top player with the Yankees. His smile, however, has been less than spectacular. Besides a noticeable gap between his top front teeth (which were also more prominent than the rest of his teeth), Judge also had a chipped tooth injury on a batting helmet in 2017 during a home plate celebration for a fellow player's walk-off home run.
But now Judge's teeth look even, with no chip and no gap. So, what did the Yankee slugger have done?
He hasn't quite said, but it looks as though he received a "smile makeover" with porcelain veneers, one of the best ways to turn dental "ugly ducklings" into "beautiful swans." And what's even better is that veneers aren't limited to superstar athletes or performers—if you have teeth with a few moderate dental flaws, veneers could also change your smile.
As the name implies, veneers are thin shells of porcelain bonded to the front of teeth to mask chips, cracks, discolorations or slight gaps between teeth. They may even help even out disproportionately sized teeth. Veneers are custom-made by dental technicians based on a patient's particular tooth dimensions and color.
Like other cosmetic techniques, veneers are a blend of technology and artistry. They're made of a durable form of dental porcelain that can withstand biting forces (within reason, though—you'd want to avoid biting down on ice or a hard piece of food with veneered teeth). They're also carefully colored so that they blend seamlessly with your other teeth. With the right artistic touch, we can make them look as natural as possible.
Although porcelain veneers can accommodate a wide range of dental defects, they may not be suitable for more severe flaws. After examining your teeth, we'll let you know if you're a good candidate for veneers or if you should consider another restoration. Chances are, though, veneers could be your way to achieve what Aaron Judge did—a home run smile.
If you would like more information about porcelain veneers, please contact us or schedule a consultation. To learn more, read the Dear Doctor magazine article "Porcelain Veneers: Strength & Beauty As Never Before."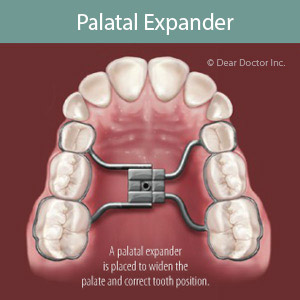 At what age should you begin treating a poor bite? Many might say with braces around late childhood or early adolescence. But some bite problems could be addressed earlier—with the possibility of avoiding future orthodontic treatment.
A crossbite is a good example. In a normal bite, all of the upper teeth slightly cover the lower when the jaws are shut. But a crossbite occurs when some of the lower teeth, particularly in back, overlap the upper teeth. This situation often happens when the upper jaw develops too narrowly.
But one feature of a child's mouth structure provides an opportunity to intervene and alter jaw development. During a child's early years, the palate (roof of the mouth) consists of two bones next to each other with an open seam running between them. This seam, which runs through the center of the mouth from front to back, will fuse during puberty to form one continuous palatal bone.
An orthodontist can take advantage of this separation if the jaw isn't growing wide enough with a unique device called a palatal expander. This particular oral appliance consists of four, thin metal legs connected to a central mechanism. The orthodontist places the expander against the palate and then uses the mechanism to extend the legs firmly against the back of the teeth on both sides of the jaw.
The outward pressure exerted by the legs also widens the seam between the two palatal bones. The body will respond to this by adding new bone to the existing palatal bones to fill in the widened gap. At regular intervals, the patient or a caregiver will operate the mechanism with a key that will continue to widen the gap between the bones, causing more expansion of the palatal bones until the jaw has grown to a normal width.
The palatal expander is most effective when it's applied early enough to develop more bone before the seam closes. That's why it's important for children to undergo bite evaluation with an orthodontist around age 6. If it appears a bite problem is developing, early interventions like a palatal expander could slow or stop it before it gets worse.
If you would like more information on interceptive orthodontics, please contact us or schedule an appointment for a consultation. You can also learn more about this topic by reading the Dear Doctor magazine article "Palatal Expanders."