Dentist Blog
Posts for tag: gum disease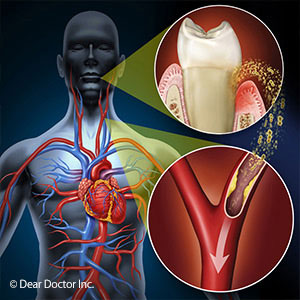 A disease happening in one part of your body doesn't necessarily stay there. Even a localized infection could eventually affect your general health. Periodontal (gum) disease, a bacterial infection that damages gums, teeth and supporting bone, is a case in point.
There's now growing evidence that gum disease shares links with some other serious systemic diseases. Here are 4 serious health conditions and how gum disease could affect them.
Diabetes. Gum disease could make managing diabetes more difficult—and vice-versa. Chronic inflammation occurs in both conditions, which can then aggravate the other. Diabetics must deal with higher than normal glucose levels, which can also feed oral bacteria and worsen existing gum disease. On the plus side, though, effectively managing both conditions can lessen each one's health impact.
Heart disease. Gum disease can worsen an existing heart condition and increase the risk of stroke. Researchers have found evidence that chronic inflammation from gum disease could further damage already weakened blood vessels and increase blood clot risks. Treating gum disease aggressively, on the other hand, could lower blood pressure as much as 13 points.
Rheumatoid Arthritis. The increased inflammatory response that accompanies arthritis (and other diseases like lupus or inflammatory bowel disease) can contribute to a higher risk for gum disease. As with the other conditions previously mentioned, chronic inflammation from a gum infection can also aggravate arthritis symptoms. Treating any form of chronic inflammation can ease symptoms in both arthritis and gum disease.
Alzheimer's disease. The links of Alzheimer's disease to gum disease are in the numbers: a recent study found people over 70 who've had gum disease for ten or more years were 70% more likely to develop dementia than those with healthy gums. There is also evidence that individuals with both Alzheimer's and gum disease tended to decline more rapidly than those without gum disease.
From the accumulating evidence, researchers now view gum disease as more than an oral problem—it could impact your total health. That's why you should adopt a disease prevention strategy with daily brushing and flossing and regular dental visits (or whenever you notice puffy, reddened or bleeding gums). Stopping gum disease could provide you a health benefit well beyond preserving your teeth and gums.
If you would like more information on treating gum disease, please contact us or schedule an appointment for a consultation.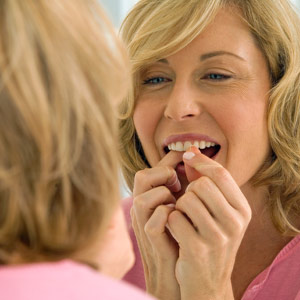 Nearly half of all Americans have some form of periodontal (gum) disease. Without proper daily hygiene and treatment, this aggressive disease can ultimately cause tooth loss. It also appears the effects of gum disease reach beyond the mouth, as researchers have found relationships between it and other systemic diseases.
Inflammation, the body's response to infection, is at the center of these relationships. In the case of gum disease, periodontal tissues become inflamed as the body attempts to isolate and fight the infection. If the inflammation becomes chronic, however, it will begin to damage gum tissues.
Inflammation is also a major feature of diabetes, a condition in which the pancreas doesn't produce enough insulin. Without enough of this hormone that transforms sugar into usable energy for the body, the sugar accumulates in the blood stream; as a result, the patient becomes more susceptible to an exaggerated inflammatory response when the body encounters an infection. This is especially true for periodontal infections: the resulting inflammation can be greater and harder to control in diabetic patients. What's more, uncontrolled gum disease may worsen their blood sugar levels.
Although not as prominent as with diabetes, cardiovascular disease also seems to share a connection with gum disease. This collection of chronic conditions like high blood pressure or restricted blood vessel flow raises the risk of heart attack or stroke. Like gum disease, inflammation is a major component in the progression of cardiovascular disease — in fact, both diseases leave similar chemical "markers" in the blood that indicate their early development.
Ongoing research has also produced some promising treatment findings for both gum disease and inflammatory diseases, which also include osteoporosis, respiratory disease and rheumatoid arthritis. We're now finding in many cases that treating one side of the disease connection can have positive effects on the other side. For example, diabetics who receive professional treatment for gum disease may see better blood sugar control.
With this in mind, the best approach is to practice effective, daily oral hygiene to reduce the risk of gum disease, coupled with regular office cleanings and checkups. Not only will this help you maintain optimum oral health, it may also contribute to better management of other conditions you may have.
If you would like more information on the relationship between periodontal (gum) disease and other diseases, please contact us or schedule an appointment for a consultation. You can also learn more about this topic by reading the Dear Doctor magazine article "Good Oral Health Leads to Better Health Overall."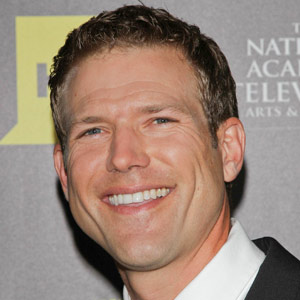 Are bleeding gums something you should be concerned about? Dear Doctor magazine recently posed that question to Dr. Travis Stork, an emergency room physician and host of the syndicated TV show The Doctors. He answered with two questions of his own: "If you started bleeding from your eyeball, would you seek medical attention?" Needless to say, most everyone would. "So," he asked, "why is it that when we bleed all the time when we floss that we think it's no big deal?" As it turns out, that's an excellent question — and one that's often misunderstood.
First of all, let's clarify what we mean by "bleeding all the time." As many as 90 percent of people occasionally experience bleeding gums when they clean their teeth — particularly if they don't do it often, or are just starting a flossing routine. But if your gums bleed regularly when you brush or floss, it almost certainly means there's a problem. Many think bleeding gums is a sign they are brushing too hard; this is possible, but unlikely. It's much more probable that irritated and bleeding gums are a sign of periodontal (gum) disease.
How common is this malady? According to the U.S. Centers for Disease Control, nearly half of all  Americans over age 30 have mild, moderate or severe gum disease — and that number increases to 70.1 percent for those over 65! Periodontal disease can occur when a bacteria-rich biofilm in the mouth (also called plaque) is allowed to build up on tooth and gum surfaces. Plaque causes the gums to become inflamed, as the immune system responds to the bacteria. Eventually, this can cause gum tissue to pull away from the teeth, forming bacteria-filled "pockets" under the gum surface. If left untreated, it can lead to more serious infection, and even tooth loss.
What should you do if your gums bleed regularly when brushing or flossing? The first step is to come in for a thorough examination. In combination with a regular oral exam (and possibly x-rays or other diagnostic tests), a simple (and painless) instrument called a periodontal probe can be used to determine how far any periodontal disease may have progressed. Armed with this information, we can determine the most effective way to fight the battle against gum disease.
Above all, don't wait too long to come in for an exam! As Dr. Stork notes, bleeding gums are "a sign that things aren't quite right." Â If you would like more information about bleeding gums, please contact us or schedule an appointment. You can read more in the Dear Doctor magazine article "Bleeding Gums." You can read the entire interview with Dr. Travis Stork in Dear Doctor magazine.