Dentist Blog
Posts for tag: nutrition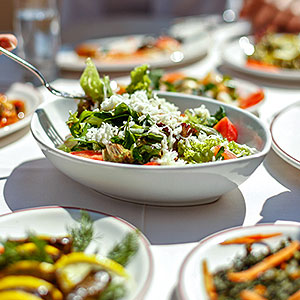 There are a number of lifestyle changes you can make if you want to reduce your risk of oral cancer, with quitting a tobacco habit at the top of the list. You should also moderate your alcohol consumption and practice safe sex to prevent the spread of the human papilloma virus (HPV 16) linked to oral cancer.
And there's one other area that might be ripe for change—your diet. The foods we consume can work both ways in regard to cancer: some, especially processed products with certain chemicals, increase your cancer risk; more natural foods, on the other hand, can help your body fight cancer formation.
Although how cancer forms and grows isn't fully understood, we do know some of the mechanisms involved. One major factor in cancer growth is damage to DNA, the molecule that contains all the instructions for normal cell growth. Certain chemicals called carcinogens cause much of this DNA damage.
One example of these dangerous chemicals are nitrosamines, found in substances used to preserve meats like bacon or ham. Nitrosamines also occur in beer during the brewing process, some fish and fish products, processed cheese and foods pickled with nitrite salt. It's believed long-term consumption of foods with these chemicals can increase the risk of cancer.
On the other hand, there are foods with substances called antioxidants that help our bodies resist cancer. Antioxidants protect cells from unstable molecules called free radicals that can also damage DNA. You'll find antioxidants in abundance in fresh fruits and vegetables, especially those high in fiber. Vitamins like C and E found in many natural foods also have antioxidant properties.
So, to help keep your risk of cancer and other diseases low, make sure your diet includes mostly fresh fruits and vegetables, along with plant-based fats found in nuts or olive oil.  At the same time minimize your consumption of processed foods with preservatives and other chemicals, along with animal and saturated fats.
A change in eating not only reduces your cancer risk, it can also improve your overall health and well-being. You'll also find a healthy diet can be dental-friendly—it can help keep your teeth and gums disease-free and healthy.
If you would like more information on dental-friendly nutrition practices, please contact us or schedule an appointment for a consultation. You can also learn more about this topic by reading the Dear Doctor magazine article "Diet and Prevention of Oral Cancer."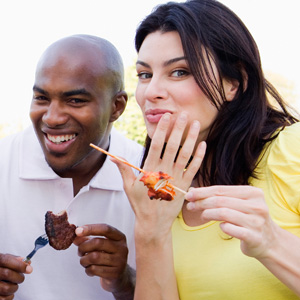 It's time to fire up the grill. So how about some tooth-healthy tips for a summer barbecue that will leave your belly satisfied and your teeth intact?
Appetizers: Starting with appetizers, mind the chips. Tortilla chips can get lodged beneath your gums, potentially causing an abscess. Potato chips can stick to your teeth and invite decay-causing bacteria. How about a cheese or veggie platter instead? Cheese keeps tooth enamel strong, and raw vegetables will scrub your teeth clean.
Main course: When it comes to meat with bones, like barbecued ribs or chicken drumsticks, bite carefully. Don't chew on the bones. Be especially cautious if you have any large fillings or porcelain veneers.
Beverages: Avoid soda and lemonade. The dangerous duo of acid plus sugar in these drinks is the ideal formula for tooth decay. Water is the best choice for staying hydrated. Plus, it washes away debris in your mouth and helps neutralize the acid from food.
After the meal: Need a toothpick? Watch out. They can act like miniature swords, piercing the gums. And wooden toothpicks might splinter, leaving an embedded fragment in your gums. So never leave home without your own supply of dental floss or flexible plastic toothpicks.
Keep summer gatherings fun by making tooth-healthy choices and avoiding dental mishaps. If you have any questions, please contact us or schedule an appointment for a consultation.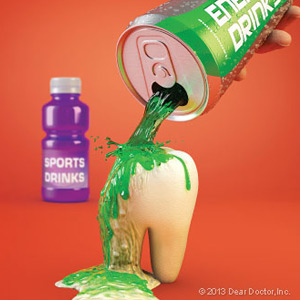 Sports drinks have been widely touted as an ideal way to replenish carbohydrates, electrolytes and, of course, fluids after a strenuous event or workout. But the mixtures of many popular brands often contain acid and added sugar, similar to other types of soft drinks. This can create an acidic environment in the mouth that can be damaging to tooth enamel.
Of course, the best way to replenish fluids after most strenuous activities is nature's hydrator, water. If, however, you or a family member does drink the occasional sports beverage, you can help reduce the acid impact and help protect tooth enamel by following these 3 tips.
Avoid sipping a sports drink over long periods. Sipping on a drink constantly for hours interferes with saliva, the bodily fluid responsible for neutralizing mouth acid. But because the process can take thirty minutes to an hour to bring the mouth to a normal pH, saliva may not be able to complete neutralization because of the constant presence of acid caused by sipping. It's best then to limit sports drinks to set periods or preferably during mealtimes.
Rinse your mouth out with water after drinking.  Enamel damage occurs after extended periods of exposure to acid. Rinsing your mouth out immediately after consuming a sports drink will wash away a good amount of any remaining acid and help normalize your mouth's pH level. And since water has a neutral pH, it won't add to the acid levels.
Wait an hour to brush after eating. As mentioned before, saliva takes time to neutralize mouth acid. Even in that short period of time, though, acid can soften some of the mineral content in enamel. If you brush during this "soft" period, you may inadvertently brush away some of the minerals. By waiting an hour, you give saliva time not only to neutralize acid but also restore mineral strength to the enamel.
If you would like more information on sports and energy drinks and their effect on dental health, please contact us or schedule an appointment for a consultation. You can also learn more about this topic by reading the Dear Doctor magazine article "Think Before you Drink."